Marine Insurance: An Overview
As with any business, there are risks associated with the nature and product of the business. Logistics and container haulage are no different, and hauliers are insured under a type of marine insurance called Freight Forwarder Liability (FFL) insurance. As a business owner, you will be interested to transfer some or all risks to an insurer, so we have prepared this article to walk you through the overview of marine insurance. Likewise, shippers and consignees will also find this article useful as we explore cargo insurance.
1) Main Types of Marine Insurance
Marine insurance is especially important for logistics business as even upkeeping your assets and training your personnel well may not be enough to weather stormy days like accidents.  In general, there are 4 types of marine insurance and each is designed to insure a different risk within logistics.
Hull insurance: It is to insure the machinery and the boat or vessel during its sea operations. It is applicable to vessel owning companies and container liners.
Marine Liability Insurance: Also called Protection & Indemnity (P&I), it is designed to insure third-party liabilities exposed to during water operations. Liabilities include injuries, illnesses or even loss of life of seafarers, and collision events with other vessels and related expenses due to quarantine, to quote a few. It is applicable to container liners and companies with crews or own vessels.
Marine Cargo Insurance: In the market, there are three types of cargo insurance, namely ICC Class A, Class B and Class C Cargo Insurance. These different classes of cargo insurance provide different scope of coverage. All three classes insure the damage or loss caused to cargo due to accidents. It is applicable to shippers and consignees alike, depending on the INCOTERMS of the trading contract. It can also be applicable to the transportation company if they can prove an insurable interest.
Freight Forwarder Liability (FFL): FFL is designed to insure cases in which the company, such as a haulier, faces a complaint from his client or from third parties regarding the damages arising from the logistics company's actions in terms of carrying out the shipment. It is applicable to freight forwarders, and transportation companies such as hauliers.
2) For Shippers & Consignees
2.1.1) What Cargo Insurance Covers
Cargo Insurance is generally purchased by shippers and consignees alike to protect the loss of cargo. Depending on whether the trading contract is FOB or CIF, conventionally, consignee will purchase the insurance and shipper will purchase insurance, respectively. Specifically, shipper is responsible for cargo insurance on CIF terms from the origin warehouse to the rail of the vessel at port of discharge, while shipper is liable for the remaining journey. On FOB terms, shipper is responsible for cargo insurance from origin warehouse to the ship's rail at port of loading, while consignee is responsible past the ship's rail and for the rest of the journey.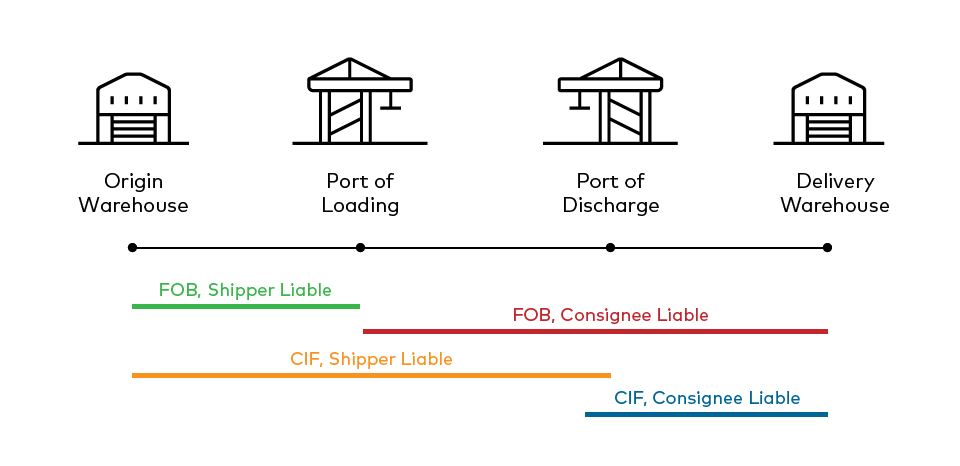 Cargo insurance comes in three classes: ICC A, B and C.
ICC Class A:
Theft, pilferage and non-delivery
Rough handling
Piracy
Perils covered under ICC B & C


ICC Class B: 
Washing overboard. Entry of sea, lake or river water into vessel craft, hold, conveyance, container, lift van or place of storage.
Earthquake, volcanic eruption or lightning.
Total loss of package lost overboard or dropped whilst loading on to or unloading from vessel or craft.
Perils covered under ICC C


ICC Class C:
Fire or explosion
Vessel/craft being stranded, grounded, sunk or capsized
Overturning or derailment of land conveyance
Collision or contact of vessel, craft or conveyance with external object other than water


As seen above, ICC Class C cargo insurance covers the least hazards/perils such as fire or explosion and the malfunctioning of vessel or carrier and parts. ICC B steps up on the coverage with water hazards, and ICC A covers both B and C perils together with piracy, rough handling and theft, pilferage and non-delivery.
However, do note that the below are not covered, in general, by any of the class of cargo insurance. Examples include war, strike or wilful negligence on the part of the insured.
Exclusions:
Loss or damage or expense:
Attributable to willful misconduct of the Assured
Caused by inherent vice or nature of insured items
Ordinary leakage, loss in weight or volume, and wear & tear of insured items
Arising from insolvency or financial default of the owners, managers, charterers or operators of the vessel
Arising from unseaworthiness of vessel or craft
Arising from unfitness of vessel craft, conveyance, container or lift van for sale carriage of insured items, where the Assured or their servants are privy to such unseaworthiness or unfitness when the insured items are loaded therein.
Caused by insufficiency or unsuitability of packing or preparation of the insured items (packing shall be deemed to include stowage in a container or lift van but only when such stowage is carried out prior to attachment of this insurance by the Assured
of their servants.
Proximately caused by delay, even though the delay be caused by a risk insured against.
Arising from the use of any weapon of war or any weapon employing atomic or nuclear fission and/or fusion or other like reaction or radioactive force or matter.
2.1.2) Claims Process for Cargo Insurance
Generally, claimants have about a week to file for a claim for cargo loss from the accident for a sea accident, and 9 months for a road accident. Below are the documents needed for claim processing:
Original bill of lading and or contract of affreightment
Insurance Certificate
Invoice
Packing list
Correspondences exchange with carrier
Or any other documents that will help in the investigation of the claim
The claimants will also have to arrange for a surveyor to survey the loss value of the cargo and attached photographs of the damaged cargo and/or accident. Claimants will have to submit the above documents, and below additional documents to the claims department of the insurer
Consignee receiving report detailing the loss
Photographs of loss cargo
Correspondence with the carrier, if any
Surveyor's loss report
Repair estimates and testing results
On complete investigation and having found that the claim satisfies the criterions as stated by the insurance contract, the claim will be approved and be paid out to the insured.
3) For Transportation Providers
3.1) General Average and Salvage
As you might have seen in news where containers are jettisoned off the vessels during accidents to prevent the vessel from complete loss (i.e. totally capsized and sunken), there is a term in marine insurance called General Average that all logistics business owners and stakeholders should know.
The law of general average is a principle of maritime law that states that all stakeholders will share in the loss should there be a voluntary need to dispose of cargo to save the vessel.
Next, any party who has helped in the salvage of cargo(es) or ship will be entitled to a reward as per the Law of Salvage. The law of salvage is a principle of maritime law whereby any person or entity who helps recover cargo in a sea adventure is entitled to reward commensurate with the cargo value. Examples include towing services or rendering salvage services (such as transferring cargo to another vessel) to a sinking vessel.
General average and salvage claims by transporters are allowed by Freight Forwarder Liability insurance, on submission of relevant documents, as detailed below, and meeting criterions.
Also, seaworthiness of vessel and roadworthiness of prime mover is important as underwriters will put a clause to exclude all claims in the event that the vessel or prime mover is not seaworthy or operationally fit for carriage.
3.2) Freight Forwarder Liability
3.2.1) What Freight Forwarder Liability Covers
Freight Forwarder Liability (FFL) is generally purchased by carriers such as hauliers, as insurable interest is easily proved by its business contracts.
In general, FFL protects the transportation company from claims or complaints arising from its customers, due to handling and custody of the goods which results in loss or damages.
Some of the loss that FFL insures are:
Liability for damage to cargo
General average and salvage
Liability for errors and omissions of transporter
Custom fines and duties
Legal expenses
Uncollected cargo costs
3.2.2) Use Cases for Freight Forwarder Liability
In general, hauliers can be insured for the breaking down of their prime mover or trailer (may or may not be covered), and the value of goods that are carried by the prime mover en-route to the warehouse or port.
Do take note of the insurer's exclusions and name credibility, and also whether there is a limit on the max mileage insured by the insurer.
3.2.3) Claims Process for Freight Forwarder Liability
As with the documents needed for a claim for cargo insurance, FFL generally requires the same documents, although it is best to check with your insurer or what can be omitted. The underwriter will ultimately assess the cargo details such as value of cargo, type of service (how cargo is transported), any subcontractors involved (their credibility), receipt of freight (any payment already made), and other important documents that are required (such as the Bill of Lading), in order to decide if the claims department should pay-out to you.
We hope that this article has given you a good introduction to marine insurance, specifically cargo and freight forwarder liability insurances. Always do check the exclusion list and roadworthiness of your prime mover and trailer because they can impact whether a claim will be paid out or not. Negotiate with the underwriter for any special inclusion or circumstances such as insuring negligence as it is usually a grey-area.
Keen to Find Out More?
Get in touch via the form below and we'll get back to you shortly!