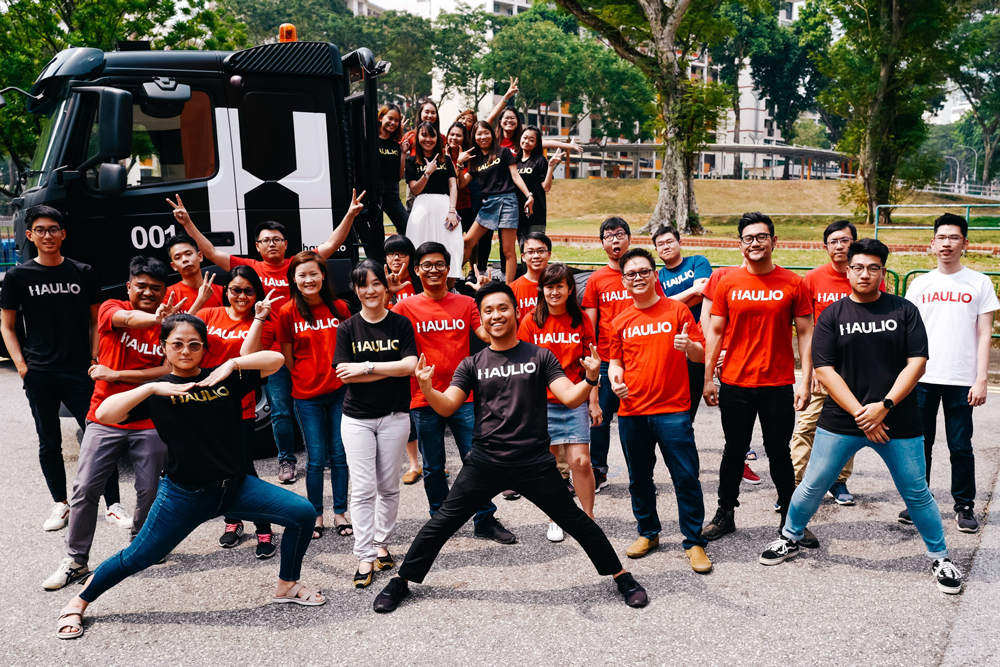 THE TEAM
To go fast, go alone. To go far, go together.
At Haulio, we believe in the strength of community, the importance of unity. We're constantly innovating and pushing boundaries, to realise what we believe the future of haulage should look like.
Together, We Cargo Faster
HUMILITY
We value humility and respect in the way we treat our users, customers and each other.
HONESTY
At Haulio, we believe that honesty and openness leads to better relationships, and work we can be proud of.
HEART
Most importantly, we put our heart in all that we do – in all our products and interactions.
AVAILABLE POSITIONS
This role requires you to manage the key client accounts of the business through building and maintaining a strong relationship. You will also need to manage a team of Community Service / Relationship Managers, monitoring their performances while still providing excellent service to customers. In this role, you will have to manage trucking vendors and industry representatives, resolve emergency issues, provide training for new employees, and handle escalation of service issues from the team. You will also be required to meet all customers' service expectations and to support with cross-selling of businesses with existing clients to work along with the team.
Key Responsibilities: 
Developing a solid and trusting relationship between major key clients and company
Resolving key client issues and complaints
Anticipating key account changes and improvements
Managing communications between key clients and internal teams
Strategic planning to improve client results
Generate sales from in house clients to up-sell and cross-sell
Research strategies to further improve the customer experience
Develop standards and procedures
Provide sales goals and encouragement to achieve goals
Set and maintain all customer service procedures and policies
Record, organize, and file customer interactions and profile/account changes
Implement customer service strategies to improve quality of service
Address and resolve team and customer conflicts
Anticipate and resolve customer service issues
Managing of Team Budget along with VP of the Business Unit
Planning and presenting reports on account progress, goals, and quarterly initiatives to share with team members, stakeholders, and possible use in future case studies or company training
Requirements:
Able to multitask, prioritize, and manage time efficiently
Goal-oriented, organized team player
Encouraging to team and staff; able to mentor and lead
Self-motivated and self-directed
Excellent interpersonal relationship skills
In-depth understanding of company key clients and their position in the industry
Strong existing network with the incumbent industry
Eager to expand the company with new sales, clients, and territories
Able to analyze data and sales statistics and translate results into better solutions
Excellent verbal and written communication skills; must be a listener, a presenter, and a people-person
Strong negotiation skills, with ability follow-through on client contracts
Proven results of delivering client solutions and meeting KPIs
Qualifications
Minimum 3-5 years' experience in operational management, marketing, business administration, or relevant field
2 to 4 years' previous work experience in customer service, management, key account management in the freight forwarding/trucking industry.
Tech-savvy and willing to learn new systems
Basic computer skills, and experience with CRM software and the Microsoft Office Suite, with emphasis on superior Excel skills.
As a member of Haulio's Global Markets Development Unit, you will be tasked with research, development and implementation of Haulio's growth strategy beyond Singapore. The team is tasked with the responsibility to deploy Haulio's solution in the ASEAN Region, and will have to work closely with local counterparties to ensure success in the various markets.
We are looking out for someone work independently, be comfortable with ambiguity, and be able to influence internal/external partners at all levels of the organization. This role will particularly suit someone with project management expertise, strong analytical abilities, business development experience, relationship building skills and/or international trade acumen.
We are looking for an individual that is excited about learning and building a career in digital logistics and is able to:
Effectively communicate and influence individuals at all levels of the organisation.
Project manage complex, multi-faceted projects.
Take the initiative and operate with a high degree of autonomy.
Think and act strategically and tactically delivering measurable results.
Key Responsibilities: 
Generate country-specific insights and recommend actions to develop the markets
Identify key challenges for expanding overseas and work with relevant business and technical product teams to prioritise and deliver improvements
Build and develop the local team]
Bridge communication across international teams around the world
Generate new business opportunities to fuel the B2B pipeline.
Create and prioritise strategic target account lists in Singapore
Research on and build prospect accounts that may yield partnerships that align with Haulio's strategic goals.
Conduct high-level conversations with key stakeholders and decision makers (C-Suite, Senior Executives) to understand their needs and how we can best deliver value to them.
Periodic activity reporting and forecasting to CEO.
Requirements:
Min 3-5 years in sales and business development in business development.
Proven track record of working with key stakeholders to build and maintain partnerships.
Able to lead and manage a team independently
Have strong business acumen to understand and communicate value to potential clients.
Good interpersonal skills to build good relationships with key stakeholders.
Excellent presentation and listening skills.
Able to handle ambiguity and adapt to rapidly changing circumstances in a fast-paced environment.
Possess a Class 3 Driving License, extensive travelling required
Able to converse and write in professional English
Able to work independently and in teams
Ability to speak and communicate the local language (Bonus)
As a member of Haulio's Community & Service Team, you will help with daily coordination of the container movement and updating with clients, optimization of the workflow of the current business processes.
We are looking out for someone with experiences in Operations Management, with the ability to think on the spot and manage clients at the same time. This is a client-facing role where you are expected to learn to build relationships and manage them. This is a fast-paced position that requires a high degree of energy and ability to focus without compromising quality. We are looking for a candidate who likes to learn and is passionate about changing the industry.
Responsibilities:
Coordination of customers' requirements from the platform.
Assessing and verification of data and pricing.
Broadcasting trucking jobs to the haulier community.
Assigning trucking jobs to hauliers based on the best fulfilment capability.
Achieving high service standards for all trucking jobs from the forwarders, shippers and hauliers.
Managing customers and hauliers expectations and requirements.Basic reporting on the progress of job
Dispute resolution between the hauliers and the customers.
Reviewing pricing upon job completion for accounts billing.
Engaging inactive users to bring them back to the Haulio platform.
Advising the Business Development team on each job costing and ensuring all jobs are completed with a positive revenue.
Secondary roles will be assigned accordingly based on each individual capability.
Requirements: 
Able to multitask, prioritize, and manage time efficiently
Goal-oriented, organized team player
Self-motivated and self-directed
Excellent interpersonal relationship skills
Hands-on experience in Customer Service/Operations and Front-end roles
1-2 years of previous work experience in customer service and operations in the freight forwarding & logistics industry.
Excellent verbal and written communication skills; must be a listener, a presenter, and a people-person
Strong negotiation skills, with ability follow-through on client contracts
WHO WE WANT
We're always on the look out for people who wish to make a difference; someone who is intellectually curious and passionate about what they do, and knows what it takes to get things done.
If you're excited about what Haulio is doing, get in touch with us!