Heavy Vehicle Parking in Singapore
Heavy vehicle parking in Singapore is highly limited due to land constraints.
In Singapore, companies are required to purchase Vehicle Parking Certificates (VPCs) in order to own a heavy vehicle.
There are 4 main types of goods vehicles:
Light Goods Vehicles (LGVs) are vehicles with maximum laden weight (MLW) of up to 3,500kg.
Heavy Goods Vehicles (HGVs) are vehicles with MLW from 3,501 kg to 16,000kg.
Very Heavy Goods Vehicles (VHGVs) are vehicles with MLW of more than 16,000kg.
Goods-cum-Passenger Vehicles (GPVs) are vehicles with MLW of up to 5,000kg. Depending on their MLW, they can be classified as LGVs or HGVs. GPVs are meant to transport both goods and passengers.
The heavy vehicles that are required to pay for VPCs are:
Heavy goods vehicles and concrete mixers exceeding 5,000 kg in maximum laden weight (MLW)
Buses with seating capacity exceeding 15 passengers
Trailers, including container trailers, low loaders and flatbed trailers exceeding 5,000 kg in MLW
Mobile cranes and recovery vehicles exceeding 2,500 kg in unladen weight (ULW)
Prime movers are thus classified as Very Heavy Goods Vehicles (VHGV) as the maximum laden weight exceed 5,000kg.
During the registration of a new heavy vehicle, road tax renewal, transfer of ownership or conversion, the heavy vehicle owner must show proof that they have a designated parking space with a VPC. A VPC is also not transferable and must be valid for the period of the road tax of the vehicle. In other words, the VPC is essential for heavy vehicle ownership – and concerns all haulage companies in Singapore.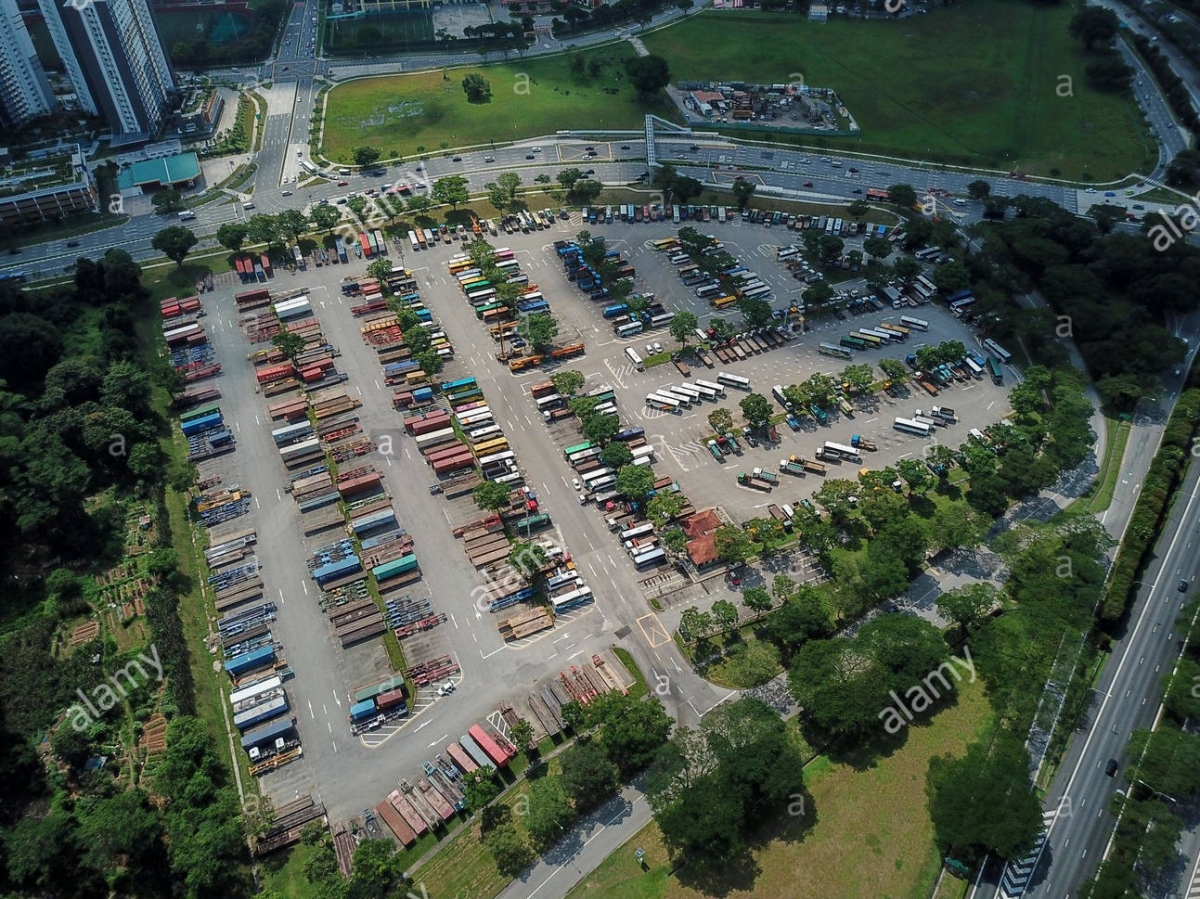 The History of VPCs
VPCs were first implemented in Singapore in 1995, introduced to curb the illegal overnight parking of heavy vehicles along public streets.
Before VPCs, heavy vehicle drivers would bring their vehicles home so that they could report to any workplace the next morning without having to pick up their vehicles at the company premises. This meant that drivers would usually park their heavy vehicles near their homes, which were also usually on the narrow roads of private housing estates where there were no parking restrictions, causing inconveniences. Some even parked on the shoulders of expressways overnight, resulting in a few accidents in the late 1980s.
With the implementation of the scheme, heavy vehicle owners had to furnish proof of having an overnight parking lot, which are usually located a distance away from residential areas.
In other words, the VPC serves to prove ownership of a heavy vehicle parking lot. In fact, it is an offence if a heavy vehicle is not parked at its designated parking area between 12am and 6am when not in use.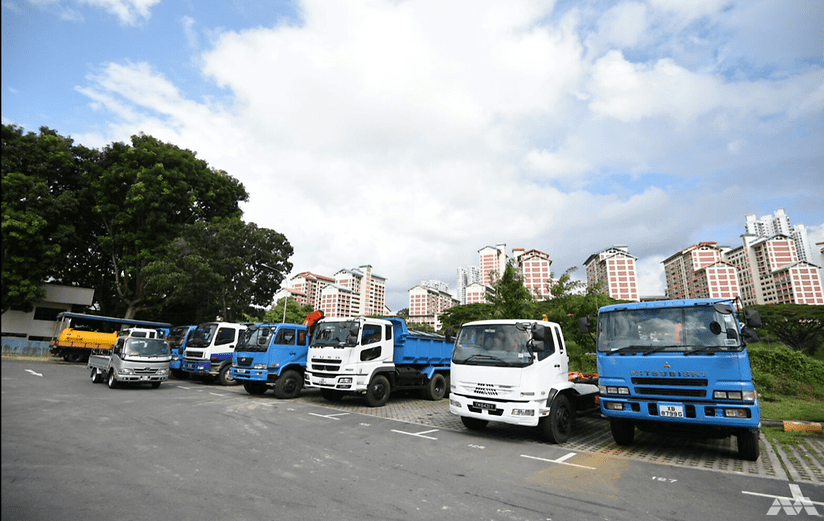 The Effects of VPC Implementation
With the implementation of VPCs, drivers now have to travel longer distances in order to get their heavy vehicles for work. Often, drivers start work in the wee hours of the morning, working long and odd hours – this scheme has generally inconvenienced many drivers. Some business owners also have to arrange for their drivers' transportation to work. This has resulted in increased costs, and a reduction in locals willing to take on prime mover driving jobs.
However, residents generally do not want heavy vehicles parked in residential areas. In as recent as 2017, residents of Seletar Hills Estate were up in arms over an upcoming heavy vehicle park, citing safety and traffic congestion.
How Much Do VPCs Cost?
Public heavy vehicle parking lots are managed by the Housing Development Board (HDB) and Urban Redevelopment Authority (URA), making up about 25% of available heavy vehicle parking in Singapore. The other 75% are operated by private operators.
For heavy vehicle owners, their vehicles must be parked at their VPC-designated parking space. Both prime movers and trailers need to have a valid VPC.
HDB and URA charges a fee of S$6 for each VPC, separate from the cost of parking. Public parking rates range between S$120-S$180 per month.
Comparatively, private parking lots can cost at least 8 times of public rates:
Prime movers: Parking fees (with VPCs) can cost up to S$1500 per prime mover per year
Trailers: Private parking (with VPCs) can cost up S$650 per trailer per year.
According to LTA, the population of goods vehicles in 2019 are: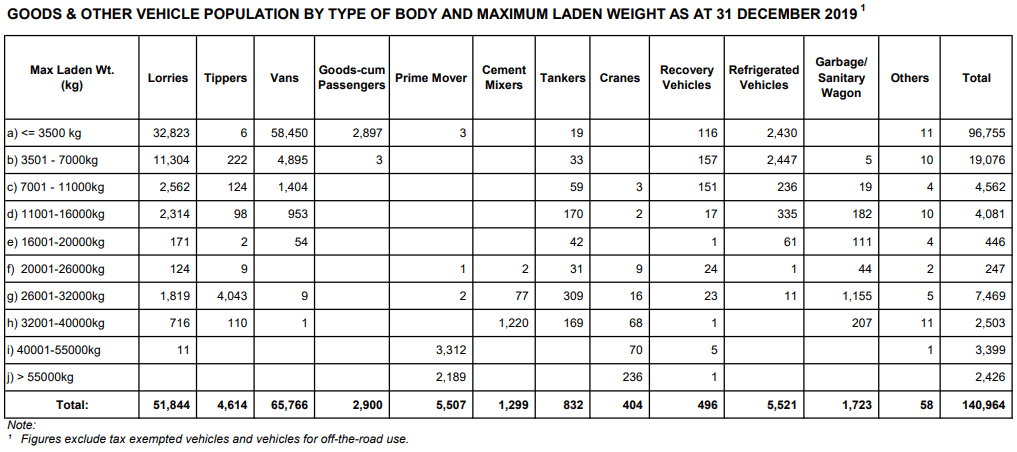 As stated previously, vehicles with a max laden weight of more than 5,000kg are required to purchase a VPC. Due to how the vehicle population in Table 1 is tiered, if we only consider vehicles with a max laden weight of at least 7,000kg – the number of such vehicles in 2019 totals up to 25,134.
As of the date of writing, there are about 8,000 URA heavy vehicle parking lots and less than 1,000 HDB heavy vehicle parking lots in Singapore. This means that affordable public parking lots are simply not sufficient to serve the more than 25,000 heavy goods vehicles in Singapore.
Furthermore, the public heavy vehicle parks only allow for heavy vehicle parking, not trailers. Although URA has limited lots available for trailer parking, these are usually situated along the roadside in industrial areas and may not be easily accessible. Hauliers thus often have to pay for private lots or rent space to park their trailers, resulting in increased costs.
The Private Market for VPCs
The queue for HDB/URA VPCs are notoriously never-ending – it is extremely hard to acquire one today. Some have even queued for a VPC several years and have yet to receive any news on it.
Why is this happening? This is due to the conditions established by HDB and URA regarding the renewal of VPCs.
According to HDB, the conditions for renewal of VPCs are subject to the following:
There is an existing VPC record for the vehicle.
The HV owner has valid season parking ticket for the vehicle at HDB's car park.
The renewable period allowed for each VPC is either 6 months or 12 months, and is non-transferable.
The VPC fee for each renewal is $6 and is not refundable under any circumstances.
Renewal can be done 30 days before expiry of the existing VPC.
The VPC commencement date will be one day after the expiry date of the existing VPC.
No backdated renewal is allowed. For late renewals, the VPC commencement date will be the application date.
Any other terms & conditions imposed by HDB as it deems fit.
In other words, owners of existing HDB/URA VPCs can hold on to the VPCs they own indefinitely, simply by renewing it before the date of expiry of their existing VPC.
New hauliers, or those purchasing new prime movers and trailers, have no choice but to resort to parking with private operators at a much higher cost.
As explained in an earlier article about trucking costs, on average, companies require 6-8 trailers per prime mover to complete 6-8 trips in one day. This allows their driver to use another trailer on the occasion when one is being used by a customer for stuffing or unstuffing.
This means that for 1 prime mover, hauliers purchase an average of 6 trailers, and conversely, 1 VPC for their prime mover and 6 VPCs for their trailers. If hauliers are unable to obtain the cheaper public parking, the cost of parking for 1 prime mover and the accompanying trailers can thus go up to thousands of dollars a year.
Possible Solutions?
This issue isn't new, and was even raised by then MP for Punggol East SMC, Lee Li Lian back in 2015.
Possible solutions include tighter regulation of private heavy vehicle parking lots. It was also proposed for HDB or URA to take over some private heavy vehicle parks and expand the number of public lots, especially those situated close to estates where the population has increased sharply in recent years. This will help residents who work in such jobs to park their vehicles with a peace of mind at the end of a long working day, and return home quickly to enjoy time with the family.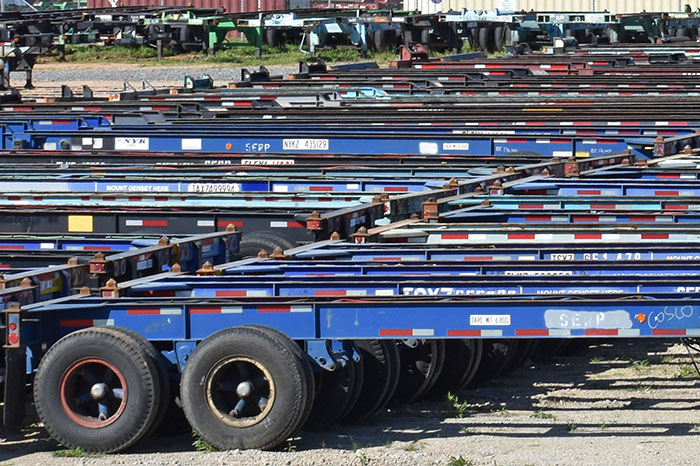 The purchase of a high number of trailers by hauliers to achieve better flexibility in fleet allocation is also a problem. It results in underutilised trailers (also known as chassis) during off-peak periods, contributing to unnecessary operating costs such as parking fees and maintenance costs.
In 2017, the Singapore Transport Association announced the Integrated Chassis Pool. The initiative aims to facilitate sharing of chassis amongst container trucking companies to improve productivity and lower operating costs. By tapping on a shared fleet pool model, companies will be able to better manage their own fleet size and optimise the use of existing assets.
Such schemes are not new, and have seen success in the United States, where more than 11,000 chassis are managed across 31 cities by Consolidated Chassis Management LLC, a transportation company that provides chassis management services.
With more than 30,000 trailers and more than 24,000 heavy vehicles registered with the Land Transport Authority, achieving a more efficient cost structure and use of existing parking spaces is pertinent in land-scarce Singapore, and we hope to see more done to tackle this issue.
Looking for VPCs?
To procure a designated parking space for your heavy vehicle, you may approach HDB, URA or other licensed parking operators to procure a heavy vehicle parking space. The parking operators must issue a VPC together with your parking space.
You may visit these links to find available heavy vehicle parking spaces:
Disclaimer: The views and opinions expressed on this post are solely those of the original author(s), and do not necessarily represent those of the Haulio.
50 Years of Transportation in Singapore: Achievements And Challenges (Editor: Fwa Tien Fang)
Keen to find out more? Contact us now!
Fill up the form below and we'll get in touch shortly!