Trucking Costs in Singapore
It is not easy operating a trucking business in Singapore. Aside from the legal procedures of starting a business in Singapore, hauliers also need to consider the costs in starting or operating a trucking business.
Typically, costs to operate a trucking business are split into 4 main categories:
Vehicle-related costs
Industry-specific costs
Labour costs
Facility costs
In this article, we will look into the various costs to run a trucking company in Singapore.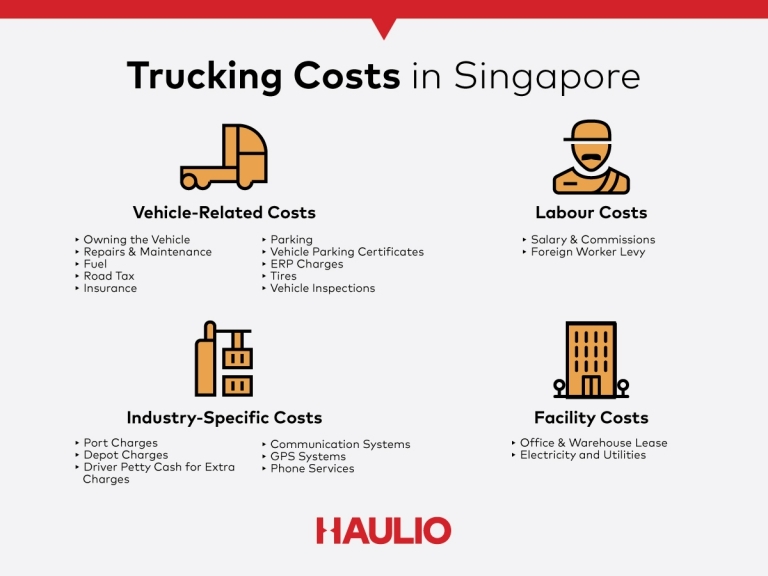 Owning the Vehicle
Prime movers and trailers need to be purchased separately. The cost depends on whether it is leased or purchased.
On average, companies require 6-8 trailers per prime mover, in order to complete 6-8 trips in one day. This allows their driver to use another trailer on the occasion when one is being used by a customer for stuffing or unstuffing.
If purchased:
Prime movers: Price depends on brand, model and payload, but ranges from S$180K to S$250K per prime mover, including COE.
Trailers: Price depends on brand and model, ranging from S$10K to S$18K per trailer, excluding COE.
Note: COE also needs to be purchased for prime movers (though not for trailers). In 2020, the average COE cost for a prime mover is about S$25K.
If leased:
Prime movers: Up to S$4K per truck per month
Trailers: Up to S$500 per trailer per month
Repairs & Maintenance
Repairs & maintenance of vehicles and their parts depends largely on the age of the fleet.
Depending on the age of the vehicle, the cost of maintenance can range from S$500-S$2,000 per truck per month. There is also an additional cost for the maintenance of trailers, which range from S$300-S$500 per trailer per month.
However, some bigger trucking companies can afford to have in-house repair or maintenance services, which can help to reduce the associated maintenance costs.
Fuel
Most trucks in Singapore use diesel and utilize about 2000-3000L a month per truck, depending on distance travelled for the jobs taken.
This equates to a cost of about S$1,500-S$2,500 per truck per month, which is also pegged to the commercial price of diesel.
Road Tax
Road tax is payable for both prime movers and trailers.
Prime movers: ~S$1,350 per prime mover per year
Trailers: ~S$120 per trailer per year
Another point to note is also the age of the vehicle. As the cost of owning prime movers and trailers are usually considerable, truckers tend to keep their vehicles for longer. This however will affect the road tax surcharge, which is payable on top of the vehicle's original road tax.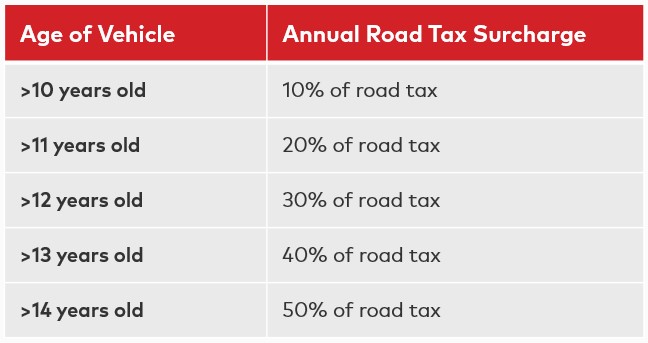 Insurance
In Singapore, all assets must be insured in order to be deployed on the roads. The costs payable for both prime movers and trailers is determined by the age of the assets and increases over the age of the assets.
Prime movers: S$3,000-S$5,000 per prime mover per year
Trailers: ~S$130-S$350 per trailer per year
Parking
Parking at HDB lots is only available for prime movers (not for trailers), however availability of such lots is rare as well. Prime movers are only allowed to park at open space HDB carparks or URA heavy vehicle carparks, due to the height limits of the vehicle.
This option is usually for drivers who want to park nearer to their residential homes.
For parking at URA, aside from the heavy vehicle carparks, this is usually for the parking of trailers at roadsides (not prime movers). Again, these lots are usually situated away from residential estates, at more industrial areas.
HDB/URA: Season parking ranges from S$130-$180 per month
Private parking lots:

Depends on the location and whether you are a tenant or not.

Prime movers: Prices can range from S$200 to S$500 per PM per month.
Trailers: Prices can range from S$200-$450 per trailer per month

Some hauliers may also choose to rent open spaces from landowners like JTC for their own parking use.

Prices can start from $0.80-$1.20psf, depending on the location and condition of the area.
Note: For heavy vehicles, aside from parking fees, hauliers are also required to purchase Vehicle Parking Certificates (VPCs).
Vehicle Parking Certificates (VPCs)
VPCs were implemented in 1995 to curb the illegal overnight parking of heavy vehicles along public streets. It serves to prove that the vehicle has an allocated parking lot reserved for it. In other words, the VPC works similarly to the Certificate of Entitlement (COE), but in this case, it proves ownership of a heavy vehicle parking lot, not the vehicle. It is also an offence if a heavy vehicle is not parked at its designated parking area between 12am and 6am when not in use.
For hauliers, VPCs need to be purchased for both their prime movers and trailers.
The price of VPCs depend on whether you:
Park at HDB (only for prime movers): S$6 per vehicle per month
Park at URA: $6 per PM/trailer per month
Park at a private parking lot.

Trailers: Private VPCs can cost up S$650 per trailer per year.
Prime movers: VPCs can cost up to S$1500 per prime mover per year
However, it is extremely hard to acquire HDB/URA VPCs today. Hauliers have no choice but to resort to purchasing VPCs for their heavy vehicles and trailers from private operators, at a much higher cost.
Electronic Road Pricing (ERP)
ERP is used to manage road congestion in Singapore. Drivers will incur ERP charges when passing through ERP gantries during its operational hours.
The ERP rates vary according to location, time of day and vehicle category, and depends on the locations of jobs as well. However generally, ERP rates for heavy vehicles are more expensive than cars and motorcycles, and can run up to about S$100-S$200/month.
Tires
For heavy vehicles, the tire usage may be more taxing due to the weight of the cargo, long distances travelled and the conditions of the roads. It must be changed regularly to ensure the safety of both drivers and the public.
Depending on usage and type of vehicle:
Prime movers change 2 sets of tyres (6-8 tyres) a year
Trailers change 1 set of tyres (8-12 tyres) every 2 years
In terms of cost:
Prime mover tyres cost about S$300-S$500 per tyre.
Trailer tyres cost about S$250-S$450 per tyre.
Yearly Vehicle Inspections
In Singapore, vehicle inspection is a regular process for all motorists to ensure that the vehicle is roadworthy, for the safety of drivers and the public.
Depending on the age of the vehicle, the number of times the vehicle needs to undergo vehicle inspection differs. Note: Both trailers and prime movers need to undergo inspection.
The prices for heavy goods vehicle inspections depend on the number of axles and type of fuel consumed. Most prime movers run on diesel.
Industry-Specific Charges
Port Charges
For hauliers that deal with import or export trucking, they will need to create an account for transactions with PSA and/or Jurong Port.
PSA Portnet processing fees
 Portnet facilitates the submission of port documentations automatically. The charges depend on the type and number of transactions per month, and whether they were made during peak or off-peak hours.
PSA LOLO charges
LOLO refers to the action where the cargo needs to be "lifted on and off" a vessel with a crane. In Singapore, hauliers need to have a LOLO account where the charges for PSA LOLO services are charged.
For laden containers, it costs S$55 per 20ft container, and S$82.50 per 40ft container.
For empty containers, it costs S$20 per 20ft container, and S$30 per 40ft container.
Jurong Port charges
Fees are payable for opening a Jurong Port online account. There is a one-time registration fee of S$250, and a monthly charge of S$80 (excluding 7% GST) for a monthly subscription scheme. Fees are also payable depending on the number of transactions. Other fees may also be applicable, such as demurrage charges.
Depot Charges
Depot Handling Charges (DHC) are one of the compulsory fees levied by container depot operators whenever a container enters/leaves the depot. Charges depend on the depot, and can cost up to S$30 per container (as of May 2020). In fact, DHC prices have increased 600% in 10 years – prices were only $5/container when DHC was first introduced.
As these charges are charged per container, if a haulier returns or collects 10 containers a day, they are charged a total of about S$250. Furthermore, these charges have to be paid upfront, resulting in a lot of cost outlays by hauliers.
Other container service fees charged by container depot operators may include but are not limited to:
Container repair charge
Container washing charge
Removal charge
Cancelled shipment charge and yard lift-on / lift-off charge
CMS charges are also charged by depots for users to book a timing to return or collect containers.
Petty Cash for Drivers
In Singapore, a lot of additional charges are still payable by cash upfront, such as washing fees and Depot Handling Charges (DHCs) – though initiatives are being implemented to digitize these processes in the near future.
Typically, hauliers have to cater for these charges in cash as they have to be paid upfront. The cost can run up to about S$2000 per driver per month, and drivers have to return to their office to top up the amounts once every week or so.
Communication Systems
Hauliers need to communicate job details with their drivers, as well as communicate with the port systems within the port.
There are 3 main options in the market today:
Electronic Container Trucking System (eCTS) – Offered by Container Depot Association of Singapore (CDAS). Requires purchase or usage of an iPad. Users who are members of CDAS enjoy discounts for the monthly eCTS fees.
Mobile Display Terminal (MDT) – Offered by Growth Venture Pte Ltd. This is an analogue system that works like a blackbox and is fixed on the prime mover.
Haulio Connectivity System (HCS) – Offered by Haulio, this mobile-focused system allows hauliers to use their existing mobile devices to communicate with their drivers. Packages for GPS tracking also available.
GPS Systems
Some hauliers would like to track the locations of their prime movers at any time of the day. This requires the installation of GPS systems.
Phone Services
Depending on the communication system used, hauliers also need to purchase phone plans for data access.
Labour costs include but are not limited to:
Basic salary
Commissions
Foreign worker levy
The logistics industry is highly dependent on foreign workers, largely due to a lack of locals willing to take up these jobs.
In Singapore, logistics companies are classified under the Service sector.  From 1 Jan 2020, the Dependency Ratio Ceiling (DRC) for the services sector was cut from 40% to 38%. It will be further reduced to 35% on 1 Jan 2021.
However, DRCs for all other sectors remain unchanged. Current DRCs for the manufacturing, construction, process and marine shipyard sectors stand at 60 per cent, 87.5 per cent, 87.5 per cent and 77.8 per cent, respectively.
Some hauliers diversify into other logistics services such as warehouse management.
As such, facilities costs include, but are not limited to:
Office space
Warehouse space
Electricity and utilities
Keen to find out more? Contact us now!