Haulio HCS Announcements
The Haulio Connectivity System (HCS) is the industry's first mobile-focused drivers' app built with our users at its heart. 
The app will be made available for all hauliers free-of-charge starting from today (10 September 2019)! Hauliers simply need to get their drivers to download the app and pair it with their company on the Haulio Community Portal (HCP).
Hauliers will get to enjoy all the features below, for free!
Tracking
Electronic Proof-of-delivery
Job Management
Trip Forms
Navigation
Controller Chat
Promotions
The only feature that requires a monthly fee will be PSA Port Messages, for drivers to communicate PSA within the port.
What are these Free Features?
Below features will be available for all HCS users.
Click the images below for a clearer view!
Controllers can keep track of where their drivers are and the direction they are heading to in real-time.
2. Electronic proof-of-delivery (ePOD)
Drivers can get customers to electronically sign off on deliveries and attaching a photo of the delivered cargo.
Customers will receive a PDF with the photo(s), delivery sign-off, date and time stamps recorded automatically.
Easily assign jobs and send trip details directly to drivers in-app.
Drivers can record their trips digitally, allowing controllers to easily review and approve their trips for salary remuneration and claims submission.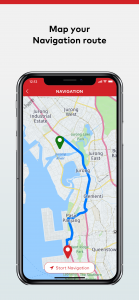 Drivers can now receive navigational instructions on how to proceed to their destination(s) via in-app routing.
In addition, HCS will direct drivers to the destination via the most suitable route for heavy vehicles.
Drivers will be able to communicate with their drivers via chat.
Promotions will be made available for drivers in-app.
Drivers can expect regular promotions up for grabs!
What is the Payable Feature?
All features featured above will be free for users, except PSA Messaging:
PSA port messaging will be a payable feature. This feature enables hauliers to communicate with PSA for directions within the port.
Simply fill up the form below and we will get in touch shortly on how you can get started!